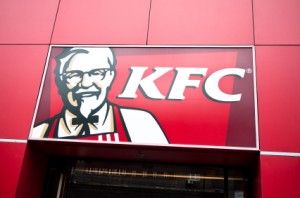 In 1955, a 65 year old man wearing a white suit to match his white hair and goatee took $105 out his social security to start franchising his fried chicken recipe. Less than ten years later, he had 600 franchisee restaurants selling his famous Kentucky Fried Chicken. This man was the legendary Colonel Harland Sanders. He had successful trademarked his recipe, brand, personal image as the company mascot, and the slogan "It's finger lickin' good". Kentucky Fried Chicken is a perfect example of how a successful franchise works.
What is a Franchise?
A franchise is a business agreement where one business (the franchisor) agrees to give another business (the franchisee) the rights to sell its products and operate under its company brand name. In order to become a franchisee, the business must pay a start up fee to the Franchisor. This start up fee can range anywhere from 10,000 to 100,000. On top of the initial starter's fee, the franchisee must pay regular licensee royalty fees to the franchisor for use of the franchisor's trademarks. These trademarks include brand name, slogan, distinguishing color designs such as KFC's red and white theme, and mascots such as McDonald's Ronald McDonald.
The franchisee must operate under guidelines that the franchisor dictates per their business agreement. It is important that the franchisees operate under the same set of guidelines. The key to a successful franchisee is to have uniformity. Consumers expect uniformity. They want to know that no matter where in the country they are, they will receive the same quality and experience from each franchise location. It is also easier for consumers to identify a restaurant or store front if all are uniformed.
The benefits of becoming a franchisee are that the business starts off with an already established and recognized brand name. There is less marketing needed for a business to make a name for itself. It already has a name. It also gives the franchisee the security of implementing already tried and proven business operations.
How to become a Franchisor?
If a business is thinking about starting a franchise business model, then it is best first to speak with a trademark attorney. The business needs to trademark all things associated with the company. A trademark attorney can patent the trademarks and advise on licensing fee terms. The attorney will also help draft franchise agreements that will stand up in court should a dispute ever arise between franchisor and franchisee.
How to Become Franchisee?
If company or individual is thinking of becoming a franchisee, the first step is contact the franchisor for information. If requirements and finances are met, then a disclosure document should be requested from franchisor. The disclosure document requires the franchisor to disclose fees, initial investment, any litigation history, bankruptcy, financial statements, and all earnings claimed. This information is vital to the potential franchisee. It will determine whether investing in the franchise is a sound investment.
Franchises do work. According to the International Franchise Association, in 2001 there were more than 765,000 franchise locations in the United States. Franchises work because all can benefit from agreement. Franchisors accumulate revenue on initial start up fee and trademark licensing fees. Franchisees inherit profitable business model. Consumers receive consistent quality from goods and services at more convenient places. Franchises if run right, provide a win-win-win situation for all.
For more info check out:
http://www.franchise.org/franchiseesecondary.aspx?id=10008
http://www.ehow.com/how-does_4911632_a-franchise-work.html#ixzz2AVuvEHQ0