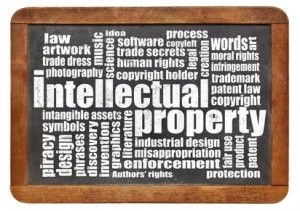 Trademarks, copyrights, and patents are all available to the public upon request. You do not have to be a business owner or part of a major company to apply for one of them. You must have something unique that is not a copy of someone else's work in order to be granted a patent, copyright, or rights to use a trademark.
Many people will confuse the three, but there are distinct differences among them. Here are a few of those differences.
Copyright covers works of art that include art itself, whether it is two or three dimensional, pictures, photos, drawings, graphic designs, songs, musical works, movies, plays, shows, and anything that can be placed in the same category as these.
Trademarks protect logos, phrases, and words that appear through commerce and identify certain services or goods from specific sources.
Patents, Trademarks, and Copyrights are all granted through three separate application processes. They can all be granted for the same endeavor.
Copyright will not protect a slogan, phrase, or trade name that is bare. This would be ideal for a trademark.
Images that are used in a logo must be protected under trademarks. Whereas, images that are only used temporarily can be copyrighted.
Silk screened or prominently displaced images on the back or the front of a top, cap, shirt, or hat falls into the category of artwork and must be copyrighted, not trademarked.
Trademarks are the logos that are sewn into clothing whether it is on the sleeve, neck, chest or other area. They are not dominant over the entire piece of clothing. The tag normally holds the trademark for the company responsible for creating the article of clothing.
There are several lawsuits that stem out of copyright infringement. More often than not, the person whose original works were stolen and used in a manner not approved by the owner, files a lawsuit against the accused for using their work without giving them credit. Accredited works of art can be found through searching images in a search engine. You will pull up several photos that have watermarks, logos, and other information printed on them in a corner or at the bottom. This work is copyrighted and any use of it must be done so with permission.
When there is confusion to whether or not someone has illegally used your works for their own purposes, you can contact a legal representative to help sort out the details, file the claim, and walk you through the court proceedings.