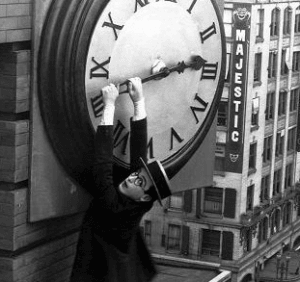 In 1923, a silent film titled Safety Last! was released.  Although this film is rarely seen or even discussed anymore, it is still considered one of the top 100 films ever created by the American Film Institute.  In it was a scene where a young child, played by Harold Lloyd, is seen dangling from the arm of an oversized clock hanging from the top of a very tall building. This film is in copyright until 2018 – although ironically if the film were released in 1922, it would be out of copyright protection and would now be considered in the public domain.
In movies such as Hugo and Back to Future, we see similar scenes.  In Hugo, we see a scene where Asa Butterfield is hanging on for dear life from the hands of a giant clock up high in the air.  Similarly, in Back to the Future, it's Christopher Lloyd who has holding on to the hands of a giant clock up high on a bell tower.  In both movies, the creators asked for, and were granted, permission to use scenes that very closely resembled in the one in Safety Last!
Harold Lloyd Entertainment is the copyright holder of Safety Last!.  On March 6, 2013, HLE filed suit alleging copyright infringement.  The defendant in this suit is Cupecoy, a company that sells home decorations, accessories for the home and gifts.  Cupecoy recently came out with an advertising campaign featuring a man hanging from the minute-hand of an oversized wall clock.  Harold Lloyd Entertainment states that the Cupecoy advertisement is too similar to the scene in Safety Last! and that willful and deliberate copyright infringement is taking place.
HLE specifically alleges that not only does the advertisement copy the movie scene by using the same type of "dangling from a clock" pose, but that the individual in the advertisement is dressed the same as Harold Lloyd and has the same body posture, where the knees are bent in a similar manner and the legs are spread in the similar manner.
In the lawsuit, HLE states, "For good and valuable consideration, HLE has selectively licensed the iconic image of Harold Lloyd hanging from the clock, and derivatives thereof." They go on to state that if one image was superimposed upon the other, it would prove without a doubt that the advertisement "simply and directly traced from the iconic image of Lloyd."
HLE is seeking injunction relief as well as damages from Cupecoy.
Note: , Widerman & Malek is an intellectual property law firm based in Brevard County Florida and serves clients all over the United States as well as all over the world. All rights reserved.