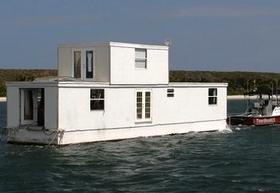 We are back on the topic of eminent domain.  This time we take a look at floating homes and maritime laws.  Last Tuesday on January 15th, the U.S. Supreme Court ended the dispute on whether a floating home should be classified as a vessel and subject to maritime laws or whether it should be considered just a home that floats on the water.
Fane Lozman, a former resident of Riviera Beach, FL had his floating home seized and destroyed in 2009 after the 11th U.S. Circuit Court of Appeals sided with the city of Riviera Beach.  The feud with Lozman and the city began long before 2009. Lozman claims the city wanted to evict him because he fought the city from abusing their eminent domain power to build a $2.4 billion private redevelopment project at the marina back in 2006.  The redevelopment project threatened the removal of floating houses and commercial businesses at the marina by eminent domain force.  At that time Lozman beat the city and the development project was stopped.  Since then the city has been looking for ways to evict him.  The city was able to do this in 2009, when they claimed that his floating home was a vessel and therefore subject to maritime laws.
Under maritime laws, vessels need to have the proper amount of crew to man vessel ordered by the coast guard and have severe storm plans in place in case of hurricanes.  The city demanded that Lozman pay docking fees and submit a severe storm plan.  Lozman refused to pay the dockage fees that amounted to $3000.  Keep in mind that Lozman had been paying property taxes to the city of Riviera Beach as his floating home used to be considered just a resident home.  Vessels pay dockage fees but not property taxes, whereas resident homes pay property taxes.  Since Lozman refused to pay the dockage fees, the city successfully evicted Lozman on the grounds that liens were not paid on the vessel.
However, is Lozman's floating home really a vessel?  Lozman successfully took his case all the way to the Supreme Court and won.  The U.S. Supreme court just ruled in favor of Lozman stating that his floating boat was not capable of transporting people or things over water.  His floating home had no steering mechanism, pump bilge, engines, lights or navigation aids.  In fact it had to be towed whenever it needed to be moved to another location. It therefore was not a vessel and could not be subjected to maritime laws.
The Supreme Court's ruling is a victory to all floating homes and floating businesses.  As for Fane Lozman, he is reported to be happy with the verdict of the U.S. Supreme Court, but the battle is not over for him.  He still needs to fight the city to get back reimbursement for his destroyed home and legal fees.