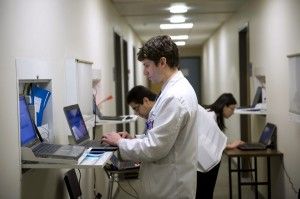 After the attack on the CHS network, which resulted in breach of the hospitals IP and put more than 4.5 million files worth of information of patients, who have taken treatment at the Community Health System hospitals for the past five years, at risk; the FBI has warned the sector that more malicious attacks can be expected in future. According the alert that the agency has sent "(FBI) has observed malicious actors targeting healthcare related systems, perhaps for the purpose of obtaining Protected Healthcare Information (PHI) and/or Personally Identifiable Information (PII)."
The alert which was sent just two days after the attack also said that "These actors have also been seen targeting multiple companies in the healthcare and medical device industry typically targeting valuable intellectual property, such as medical device and equipment development data."
The alert, which is issued regularly by Homeland Security and FBI, sent to industries and businesses, to warn them about possible cyber-attacks, are not usually accessible by the general public. It seems that the FBI has been worried about the healthcare sector for months now and has been asking them to upgrade their security system to make it up to date with other sectors.
The intellectual property of the hospital could have been saved from the infringers if the hospitals are fully aware of the latest technical developments and taken steps to prevent possible hacks. Every time an IP theft case is dealt with, in court, the IP rights and laws are slightly modified in order to give more protection for intellectual properties of the companies. The intruders are more powerful and use various techniques to hack the IP if the companies are unaware.
Roberta Stempfley deputy assistant secretary of Homeland Security's Office of Cybersecurity and Communications pointed out the lack of awareness and education among small and medium sized businesses "I had thought they would be more aware of what some of the cyber security threats are… and there was not as much broad awareness as we had expected." She also added "we're really focused on trying to help engage in outreach in a language that's accessible to them as an easy first step."
Senator Tom Carper from Delaware, chairman of the Homeland Security and Governmental Affairs Committee, stated that the attack "underscores the scary reality of how much of a target our sensitive information has become in cyberspace." And urged the Congress to take the matter seriously and come up with a solution as soon as possible so that the country could become proof against cyber-attacks.