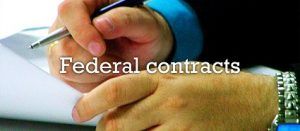 Every day, I review several newsletters regarding federal procurement. The one issue that seems to come up with the most frequency is compliance with the many federal and agency rules included in each federal contract. While compliance seems relatively uncomplicated on the surface it is a very complicated area with a high degree of risk.
Failure to comply with the various rules and regulations can result in several consequences. Each consequence listed below, is separate and distinct, that is the Government can pursue one, two or all these actions if you are found to be non-compliant:
If a Defense Contract Audit Agency (DCAA) finds your business system has deficiencies, they can cause payments under the contract to be reduced until the issues they identify are resolved.
A Contracting Officer can issue a cure notice requiring you to provide a plan to correct deficiencies with a set time period. If you fail to make the correction, your contract can be terminated for default.
The Government, or someone in your company, that knows you are non-compliant can file a suit against your company under the Federal False Claims Act (FCA).
Your company can be suspended or debarred from contracting with the United States for several years if you are not meeting the compliance requirements. Most states, ask if you are suspended or debarred from federal contracting as part of their competitive process. If you are suspended or debarred, you can complete the contracts you have but cannot bid new work.
If your business is a small business and is recognized as one of the various types of small business entities recognized by the United States, your status could be revoked.
Your company could be subject to substantial criminal penalties including imprisonment for responsible individuals and substantial fines.
The new administration recently issued strong new policies on ethics. It is likely, these policies will flow over into corporate responsibility with significant increase in compliance reviews. As most compliance reviews involve documentation, this is a relatively easy area for investigators to focus.
For example, there have been numerous articles about increased review of I-9, Employment Verifications Records as part of the new administration's increased effort on enforcing immigration law.  An audit of your I-9 records could lead to an audit in numerous other areas if discrepancies are found in your I-9 records.
The Department of Justice, Criminal Division, Fraud Section recently published a document called "Evaluation of Corporate Compliance Programs" which will provide insight in to how the government looks at these issues.  While the guidelines are designed to inform readers as how to best manage their compliance systems to minimize financial and criminal liability, following these policies also will likely reduce the impact of other actions an agency could take.  I strongly recommend you read the paper, which is at this link.
While the procedures mentioned in the article may seem cumbersome, developing and complying with well drafted compliance guidelines is your best and least expensive defense.
In future articles, I will discuss specific compliance issues.  The purpose of this article is to simply remind readers that effective compliance policies are essential.