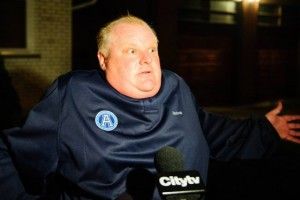 Toronto Mayor Rob Ford tries to salvage his negative image with his constituents by selling "RobbieBobbie" bobbleheads for charity. Just a week after confessing he smoked crack cocaine while in one of his drunken stupors, he is rallying back with this latest publicity effort. One thousand bobbleheads bearing the Mayor's likeness went up for sale for $20 a piece to support the United Way Campaign. The publicity stunt follows just days after the city council urged the Mayor to step down from office and seek professional help for his drug use.
Other politicians in the past have had their likeness featured on bobblehead dolls as part of political satire. Hillary Clinton, Jimmy Carter, and Rudy Giuliani are just a few that have had their likeness graced onto bobblehead dolls. The catch is none of these politicians made money from their own dolls. The money collected from their bobblehead productions went directly to the toy makers. Toy makers along with journalists can poke fun at public figures if done as a parody. Under the first amendment they are protected from defamation and rights of publicity lawsuits as long as their work is transformed into something original.
Mayor Ford is using his own parody bobblehead to his advantage. Did the stunt work to improve the politician's likeability? Well, he has certainly received a surprising turnout. At least three hundred people waited in line outside the City Hall to purchase their limited Edition "RobbieBobbie" doll and within just one day all his bobbleheads were sold out. The Mayor is excited about the success of his dolls but the event was not all favorable. His charity signing event did evoke the anger of Ford Motor Company.
With the Mayor's increased notoriety, Ford Motor Company is not pleased to have to share their name with the infamous Mayor, especially when supporters of the Mayor started selling Ford Nation shirts using their signature oval logo. While the Mayor did not authorize or sanction the production of the t-shirts, there is footage of him signing these t-shirts at his publicity event.
"Ford did not grant permission for use of its logo," Jay Cooney, a company spokesman, told Bloomberg News. "We view it as an unauthorized use of our trademark and have asked it to be stopped."
For profiteers looking to capitalize on public figures make note the first amendment law only protects those who create original works. Using another company's logo is not an original work and will land the profiteer in trademark infringement trouble.
Mayor Rob Ford's charity event and bobbleheads are certainly earning him attention, but it may not be as favorable as he hoped. With an entire city council and now Ford Motor Company against him, his political career might be coming to an end soon. At least the money earned from his "RobbieBobbie" sales all went to a good cause.
References:
reuters.com
bloomberg.com