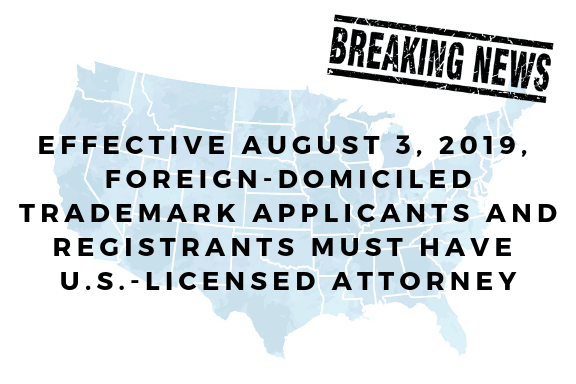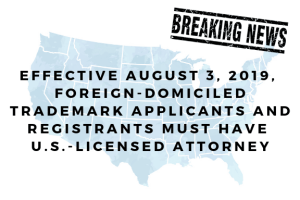 The new rule applies to any foreign-domiciled trademark applicants, registrants and parties whose permanent legal residence or principal place of business is outside of the United States.
These parties will be required to have a U.S.-licensed attorney represent them before the USPTO in trademark matters.  The new rule will be effective August 3, 2019.
"Businesses rely on the U.S. trademark register to make important legal decisions about their brands. In order to maintain the accuracy and integrity of the register, for the benefit of all its users, the USPTO must have the appropriate tools to enforce compliance by all applicants and registrants," said Under Secretary of Commerce for Intellectual Property and Director of the USPTO Andrei Iancu. "This rule is a significant step in combatting fraudulent submissions."
The new rule is intended to increase USPTO compliance with U.S. trademark law and USPTO regulations, improve the accuracy of trademark submissions, and safeguard the integrity of the U.S. trademark register.
The USPTO instituted the rule after discovering an increased number of trademark applicants, registrants, and parties filing inaccurate, and possibly fraudulent, submission with the USPTO which did not comply with U.S. trademark law.
To learn more about the new USPTO rule and how it may affect your filings, click here.
Widerman Malek has extensive experience in serving as U.S. licensed attorneys to foreign-domiciled companies.  If you have questions about the new rule and how we can help you, please contact us today.